Signing up is a seamless process that opens up a world of countless educational resources and tools. In this comprehensive guide, we'll walk you through the steps to create a SplashLearn account, enabling you to leverage this innovative platform fully.
Teachers can set up the SplashLearn account in three different ways; we'll learn about them one by one.
Sign up by creating a SplashLearn username and password:
Kick off the process by opening the Splash Learn website at

https://www.splashlearn.com/

. On the homepage, spot and click the "Sign up" button to get started with the account creation.
Since you're an educator, select the "I'm a teacher" option. This guarantees you access to pertinent features and resources custom-made for educators.
Fill out your "First Name," "Last Name," and "School Email" along with your birth year in the designated fields and create a strong password. Once completed, click the "Sign up" button to move forward.
You can manually key your school details in the fields or hit the link "

Find US schools here

" to search for your school.
If you opt to find your school, a new window will open where you can hunt for your school by its name or location. Having keyed in your school information, click the "Set your school" button to carry on.
Account Verification:
Email verification is obligatory for all users (parents or teachers) who sign up via SplashLearn credentials. This ascertains that the registration is authentic and not an unauthorized access.
If you cannot find the verification code, check your spam or promotions folder with the subject line "SplashLearn verify your email address."
If the code is still elusive, click the "Resend Verification Code" link for a new one. Moreover, suppose the registered email appears incorrect or invalid. In that case, you can click the "Change email address" link and rectify the error.
It is important to ensure that the email address provided is correct, as this is the primary means of communication between the teachers and SplashLearn.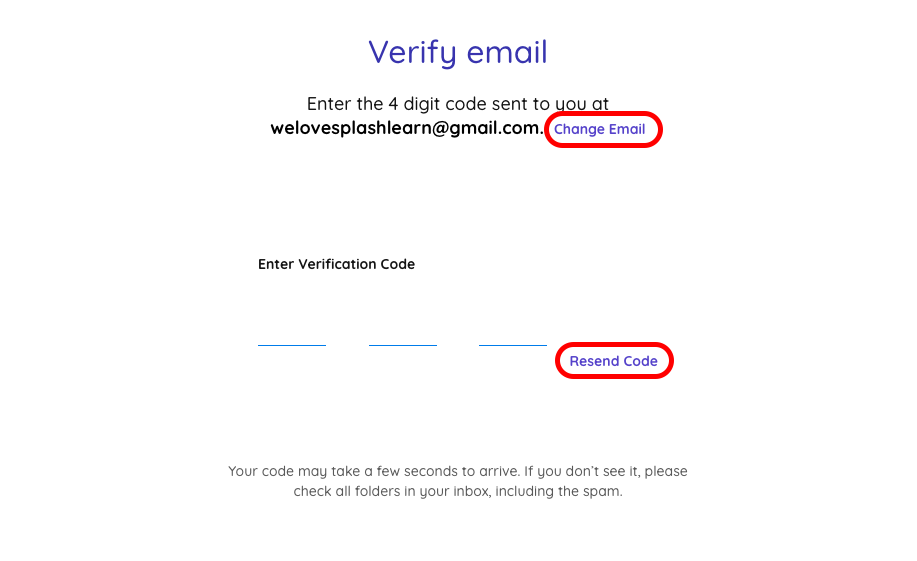 Sign Up with Clever for Single Sign On (SSO):
Signing up via Clever lets teachers swiftly import their Clever classrooms and smoothly integrate them with SplashLearn. It also simplifies student login via SSO service.
To sign up with your Clever account, click on the "Clever" button on the teacher sign-up page.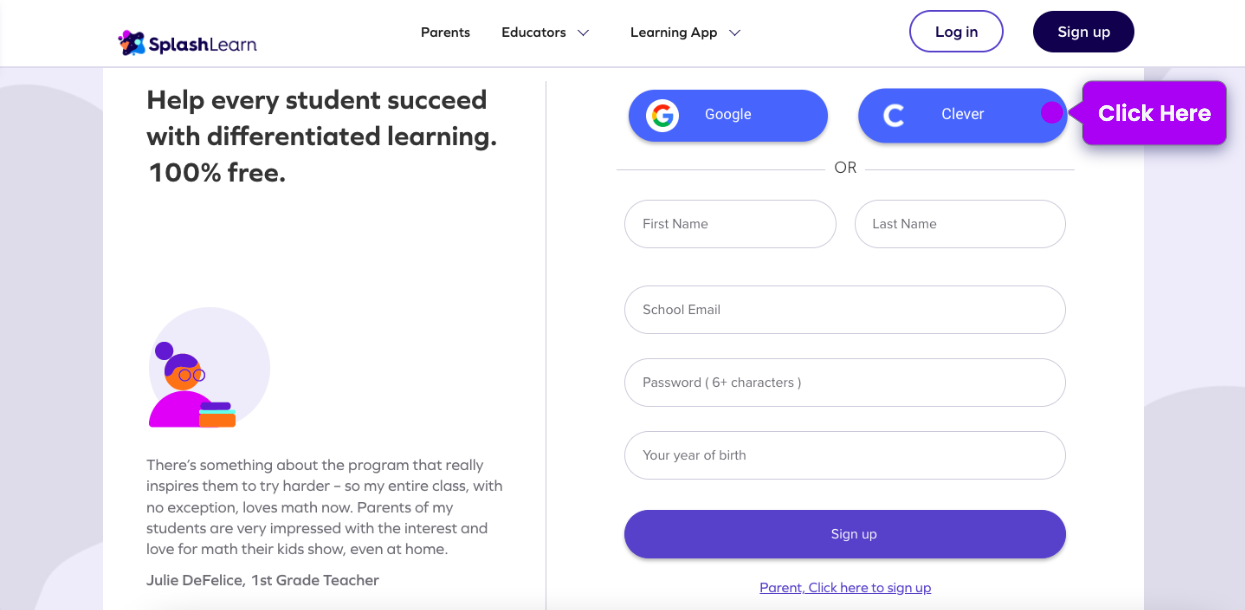 You will then be redirected to Clever's sign-in page. If you already have a Clever account, you can sign in using those credentials; if not, you must create a Clever account first.
SplashLearn will automatically sync your Clever classrooms once you sign in, which may take up to 60 seconds. Please refrain from refreshing the page during this time.
Remember that Splash Learn supports Clever classrooms for Grades K-5 and subjects Math, Homeroom/Advisory, and English/Language arts only.
Also, to import a Math and Reading class in SplashLearn, the subject of the Clever class should be Homeroom, and the grade should be Kindergarten, Grade 1, or Grade 2. Splash Learn doesn't support Reading for grades 3-5.
Furthermore, signing up with Clever eliminates the need for email verification since your authentication is already confirmed through the Clever account login.
Sign Up with Google ID:
To sign up with your Google account, click the "Google" button on the teacher sign-up page.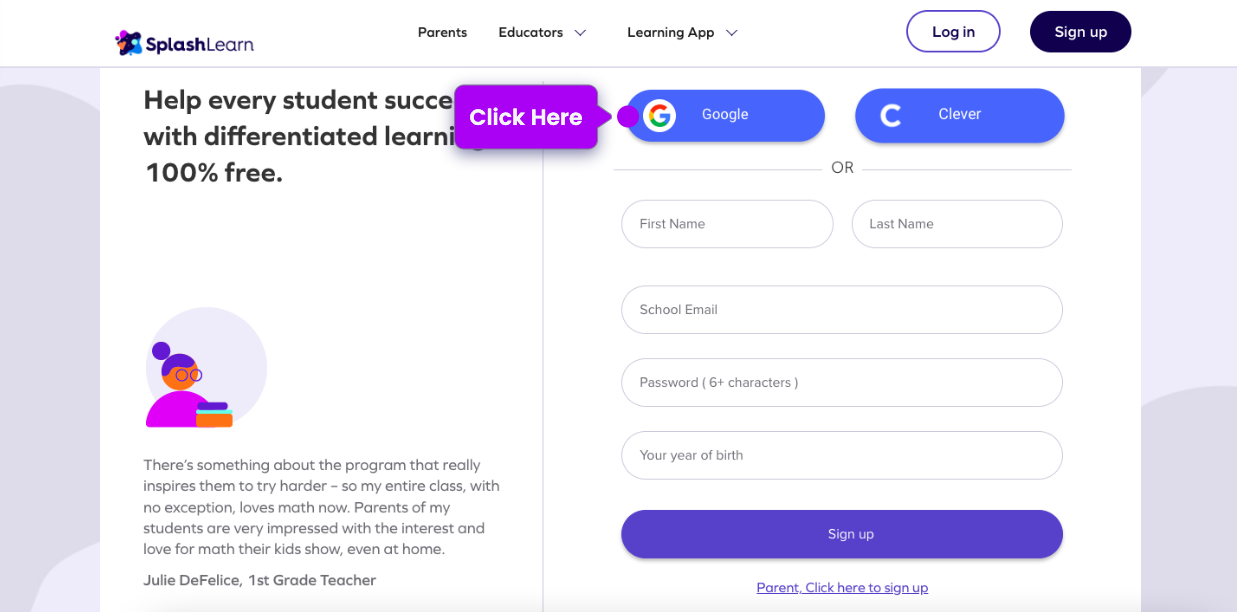 On the next page, select the Google account you'd like to link with SplashLearn. Don't have one? No problem; you can create a new Google account.
Sign in to your Google account and click on "Allow Access" to permit SplashLearn to connect with your account. Enter your birth year and school details.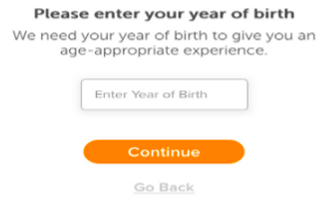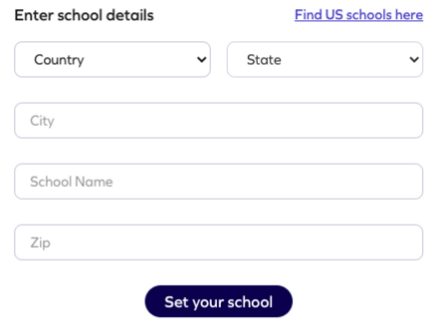 To ensure your privacy, take a moment to read our privacy notice. Once you're done, click "Set your school" to proceed.
Please note that signing up with your Google account eliminates the need for email verification since your authentication is already confirmed through the social media login.
Voila! You're all set to immerse yourself in Splash Learn's world of interactive learning. There's much to explore, from educational resources and interactive games to personalized learning paths!