What is Math Fact fluency?
Math fact fluency refers to the ability of an individual to effortlessly and instantly recall addition, subtraction, multiplication, and division facts with automaticity.
Just so you know, each student will progress fluency at their own pace. Fact fluency sets a strong foundation for our students in conceptualizing the facts, followed by weekly practice (at least 3 times a week) using fun and engaging ways.
How does SplashLearn help with fact fluency?
SplashLearn is a fun and engaging tool…
Spiral review, after teaching foundational concepts in the classroom, students continue to practice it regularly via our Adaptive learning mode throughout the school year in order to maintain what they have learned and become fluent at it.
Keeping a fluency check on each fact, a fact is mastered only when a student has answered it correctly within 6 seconds.
Maintaining a balance between online and offline learning through our custom tests and worksheets.
Teachers can keep track of students' progress through our weekly adaptive fact practice report. With our Fact Fluency student report, teachers can dive deep into each student's fact progress.
What is adaptive and custom fact practice?

Adaptive fact practice
Adaptive fact practice assesses and adapts to each student's level and gently guides them to fact fluency at their own pace. This allows each student to master fluency at their own pace. A fact is considered mastered when a student has answered it correctly within 6 seconds.


Custom fact practice
Custom fact practice allows teachers to create a quick online test or print a custom worksheet by choosing a set of operators and numbers that they want their students to practice.
When to assign which mode for fact practice?
Adaptive mode is best for regular in-class fact practice as it adapts to the student's level and takes care of them individually. Assign once, and adaptive mode will take care of all the students until the practice is complete; you just have to ensure they practice daily.
Custom mode is best for assessing the students or if you want to focus on a particular operator and set of numbers. As a teacher, you get complete control of what students will practice fluency.
What happens if the student misses the assigned adaptive practice day?
No worries, even if students have missed practice days they will always start the practice from where they have left.
How can students access the assigned Math Facts?
Teachers can assign Math Facts by following the steps mentioned in the article How can teachers assign adaptive math facts?
Students can access the dashboard by logging into their accounts with the class code and the password and access the assigned Math Facts under the From My Teacher tab.
However, if they try to log in after school hours (7 AM to 3 PM), then it will ask them to link the parent email address with the students.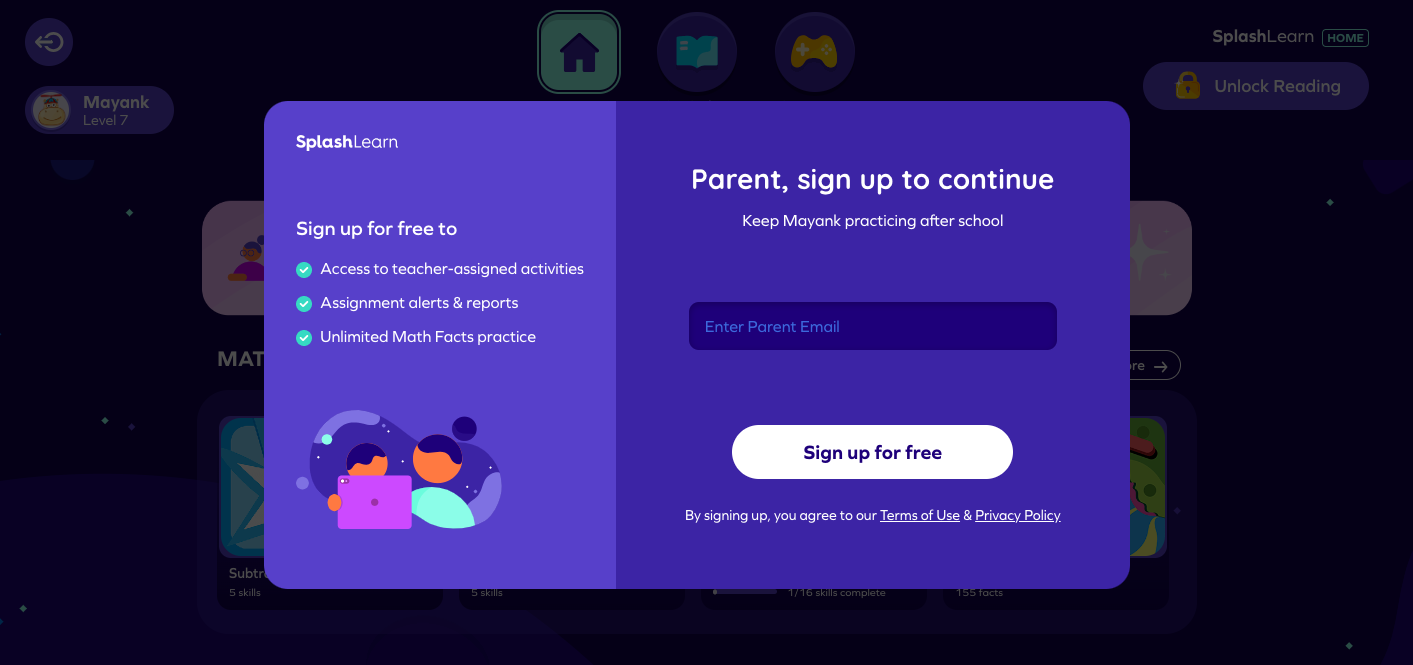 Teachers can enable home access so students can practice the Math Facts after school hours. Once done, students can log in with the class code and password, as well as the parent's email address and password. Learn more about How can a teacher enable home access for the students?
Please note that if the students try to access the Math Facts after school hours (7 AM to 3 PM) apart from the assigned Math Facts (custom test and adaptive fact practice) in the From My Teacher tab, then it will prompt them to purchase the subscription.
If you need any more help, we're here to help you. Click the link provided here to raise a request at our help desk. Our dedicated support team will guide you through the process and ensure your account is deleted securely.