Adding a co-teacher/secondary teacher or transferring a SplashLearn classroom to a different teacher is a breeze. Discover how easy it is to enhance your teaching journey with SplashLearn in just a few simple steps!
First, log in to your SplashLearn account and look for the "Profile" icon in the screen's upper-right corner. Click on the "Profile" icon and go to "Manage all classes." This is where you'll find all of your active classes and be able to manage them.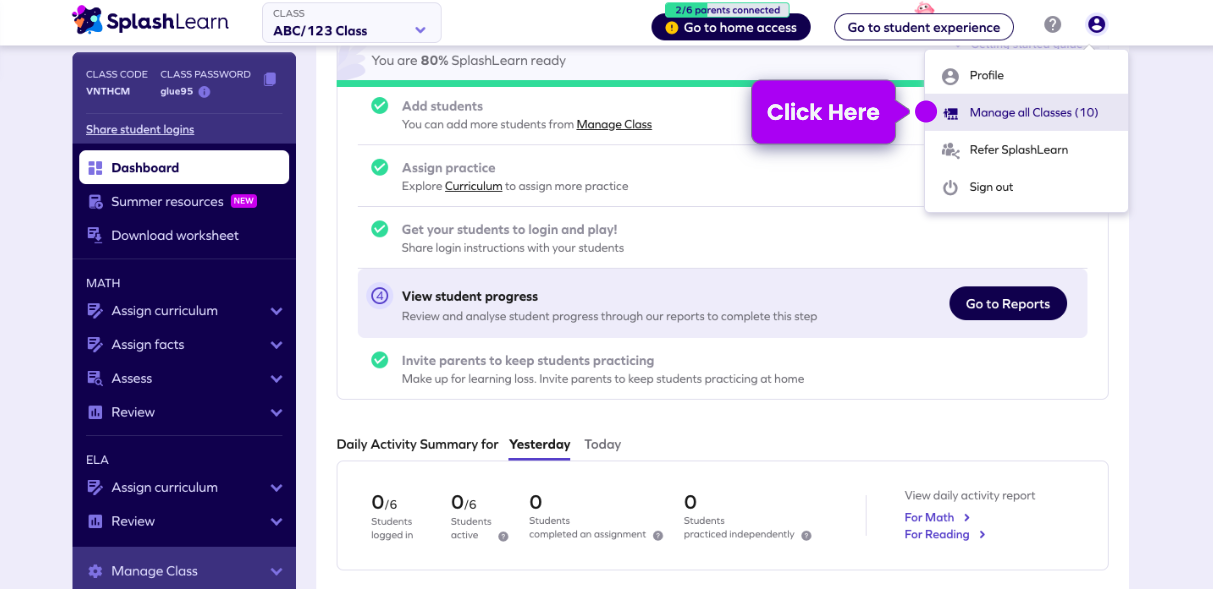 Adding a Co-Teacher/Secondary teacher:
Once you've found the class, click the "Add a co-teacher" button next to it.
Type in the teacher's email address and click on "Add Co-teacher."
Transferring the Classroom:
Click on the "Transfer" option for the specific classroom you wish to transfer.

Now, you'll be asked to enter the registered email address of the teacher to whom you want to transfer the class. Ensure you enter the correct email address, as this information will be used to notify the recipient of the transfer request.

Once you've entered the email address, click on the "Send transfer request" button to complete the process.
Key points to remember:
Please note that i

n case

you wish to remove the co-teacher, then you can click on "Remove a Co-Teacher".
Receiving teachers must have their own SplashLearn account to accept the transfer request and add a co-teacher to view the classroom within their own teacher's account. If they don't have an account yet, they must create one before taking over the class.
If you'd like to transfer an individual student to a different class, click here to request a request at our Customer support. Just so you know, if the classroom is Google Classroom/Clever, the primary changes must be done on the source itself, and then you can sync the changes.
And that's it! With just a few clicks, you can transfer your SplashLearn class to another teacher or add a co-teacher/secondary teacher and ensure a smooth handover. Whether you're leaving for a new opportunity or just need to pass the reins to someone else, transferring or adding a co-teacher to your class is a simple process that can be completed in minutes.
Please note that only the class owner can add co-teachers, transfer, or delete the class entirely. As a co-teacher, the teacher can access all the features and manage the roster (add or delete the student) from the class roster in SplashLearn.
Managing your SplashLearn class with other teachers can give you an edge in managing your workload as you transition to a new role or school.