As a teacher using SplashLearn, you can view the assigned practice assignments for your students easily. Here's how you can do it:
Click on the 'Assign curriculum' drop-down menu in your SplashLearn account.
Select the 'Track Assignment' option to access the assignment tracking page to view all the assigned practices.
Click on the assignment tile to view the status of the assignment. The assignments are color-coded to overview your student's progress quickly.
It's important to note that you can view all the assigned practice assignments grade-wise by selecting the grade level from the drop-down menu. This allows you to easily track your student's progress across different grade levels and ensure they are effectively working on the assigned practice.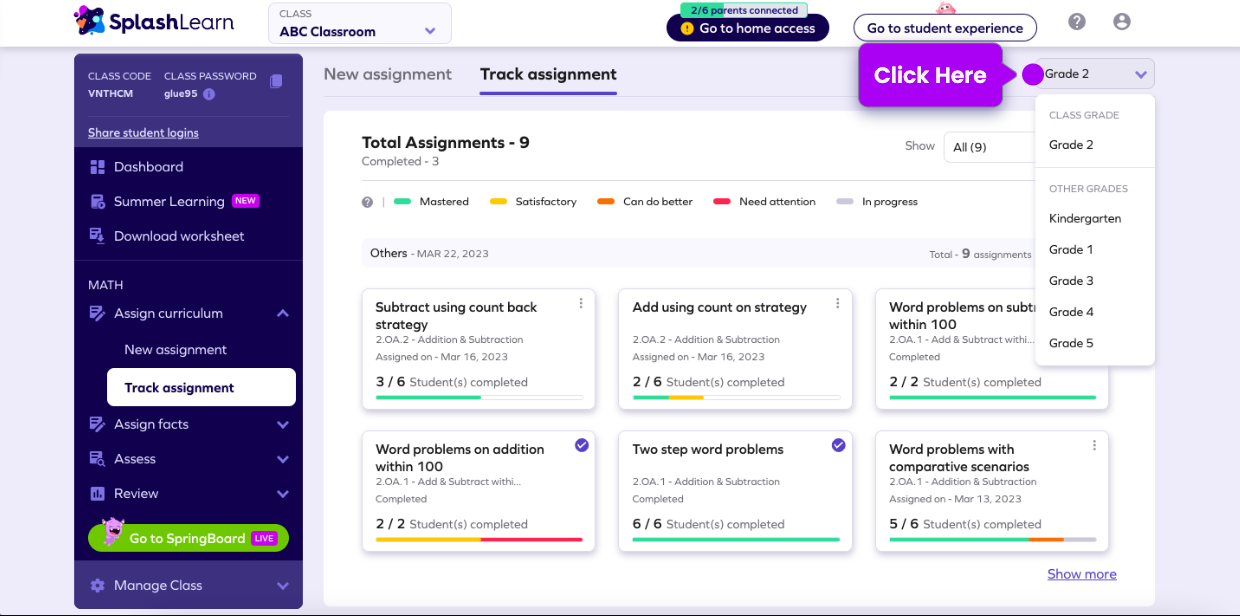 Using the assignment tracking feature in SplashLearn, you can easily monitor your student's progress and ensure they are completing the assigned practice assignments. This allows you to provide timely feedback, support, and intervention as needed, helping your students stay on track and progress toward their learning goals.
Encourage your students to actively engage with the assigned practice assignments and provide guidance and support as needed. By regularly monitoring your student's progress, you can identify areas where they may need additional support and provide targeted instruction to help them succeed.
If you face any challenges or need additional support, kindly click here to raise a request regarding the issue. The Customer support team will assist you further.