As a teacher, you can import your classes from Clever or Google Classroom into SplashLearn. Additionally, you can create new SplashLearn classrooms manually. This article provides step-by-step instructions for both new users and existing teachers who want to set up their SplashLearn classrooms.
New Users:
Our platform offers a seamless way for educators to create and manage dynamic classrooms tailored to specific subjects. Whether you're teaching Math, Math+Reading, or Reading/ELA/Language, this helpful article will walk you through the steps to effortlessly create and customize classrooms under your SplashLearn account.
Let's embark on this journey to create vibrant classrooms that ignite a love for learning!
Log in to your SplashLearn account with your registered email address and password. If you don't have an account yet, you can sign up for one on the SplashLearn website. You can refer the article Creating and verifying a Teacher account on SplashLearn: A step-by-step guide for further understanding.
Write the appropriate name for your classroom.
Choose the appropriate grade level from the options provided, ranging from Kindergarten (K) to 5th grade.
Next, click "Add Students" and enter your student names. You can either separate the names by commas or copy-paste them from an Excel sheet.
But wait, there's more! Did you know you can also add students using a spreadsheet? It's easy! Just click the "Add Students Using Spreadsheet" button and follow the steps shown in the screenshot. Click on "Add Students" to complete the process.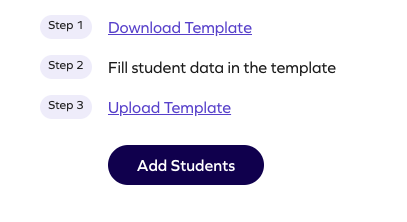 Congratulations! You have successfully set up your classroom in SplashLearn. So, prepare to witness your students thrive as they embark on this exciting educational journey in your classroom.
Existing Users:
For existing teachers who wish to add a new class, click the "Add Class" button under the "Class" drop-down and follow the steps further.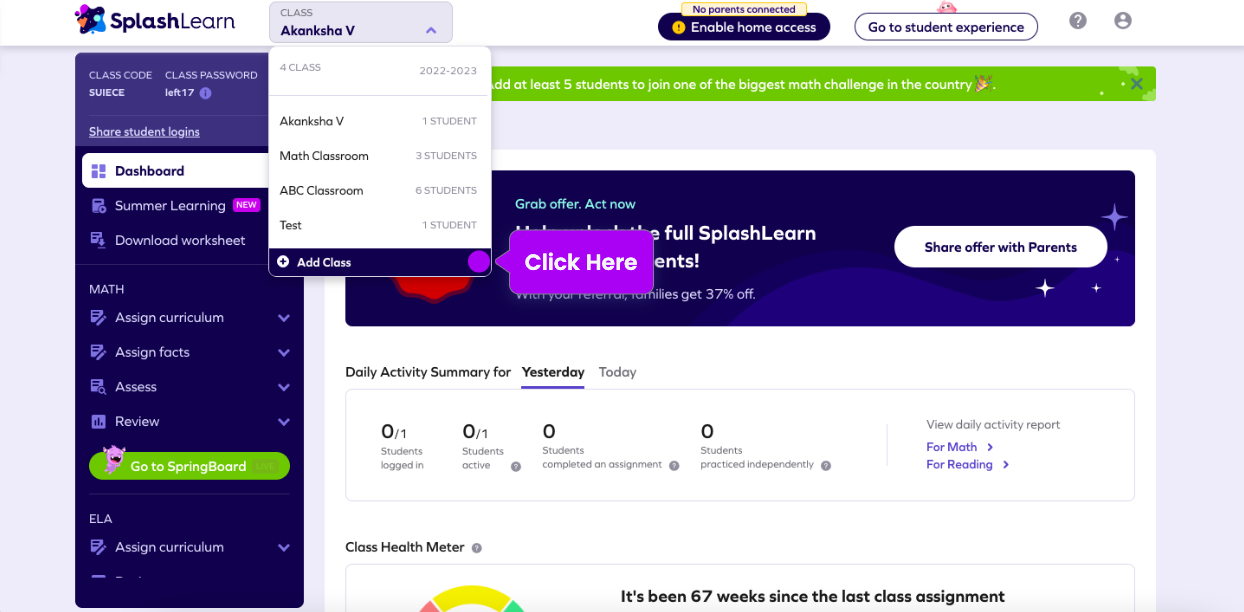 Points to remember:
Please note that while setting up the classroom, if you select the Grade level from Kindergarten to Grade 2, you'll have the Math+Reading Classroom. However, setting up a separate ELA/Reading/Language Arts classroom won't be an option. Keep in mind that SplashLearn is constantly expanding its offerings. We can expect additional grade levels and subjects, allowing for even greater educational opportunities.
While importing classrooms and creating manual classrooms are available options, it is important to understand that our learning platform does not currently support merging multiple classrooms into a single entity. This means that teachers cannot combine or merge existing classes together within our system.
Teachers have the flexibility to add an unlimited number of classrooms to their accounts in SplashLearn. As a teacher, you can create and manage as many classrooms as you need without any limitations. This allows you to organize your students, assignments, and resources efficiently, providing a personalized learning experience for each classroom under your account.
Please note that o

nce you have created the classroom, it will remain active with no expiration date unless you do not remove/delete the classroom.

If you wish to use the previous year's classrooms in the current year, then you can go to MANAGE ALL CLASS > Click on "I'll use this class in 2023-2024" to continue using the class.
Enjoy exploring the diverse resources available and unleashing the full potential of interdisciplinary learning in SplashLearn!