Want to import your Clever Class to your Splash Learn account? It's easy! Just follow these simple steps:
New Users:
For new teachers who have just created and verified their accounts, don't worry - creating your SplashLearn classroom is a breeze! Here's what you need to do:
Click on the "Add Class".
Click the "Import from Clever" button.
Log in to your Clever account.
During the synchronizing process, it's important to stay on the same page and avoid navigating away from it or refreshing it. The process may take up to 60 seconds to complete.
After the sync is complete, you will be directed to a page that allows you to pick the class you wish to import.
Click on the "Import" button to complete the process.
That's it! You've successfully imported your Clever Class to your Splash Learn account. Now you can enjoy all the benefits of Splash Learn's engaging math and reading activities with your students.
Existing Users:
For existing teachers who wish to add a new class, click on the "Add Class" button available under the "Class" drop-down and follow the steps further.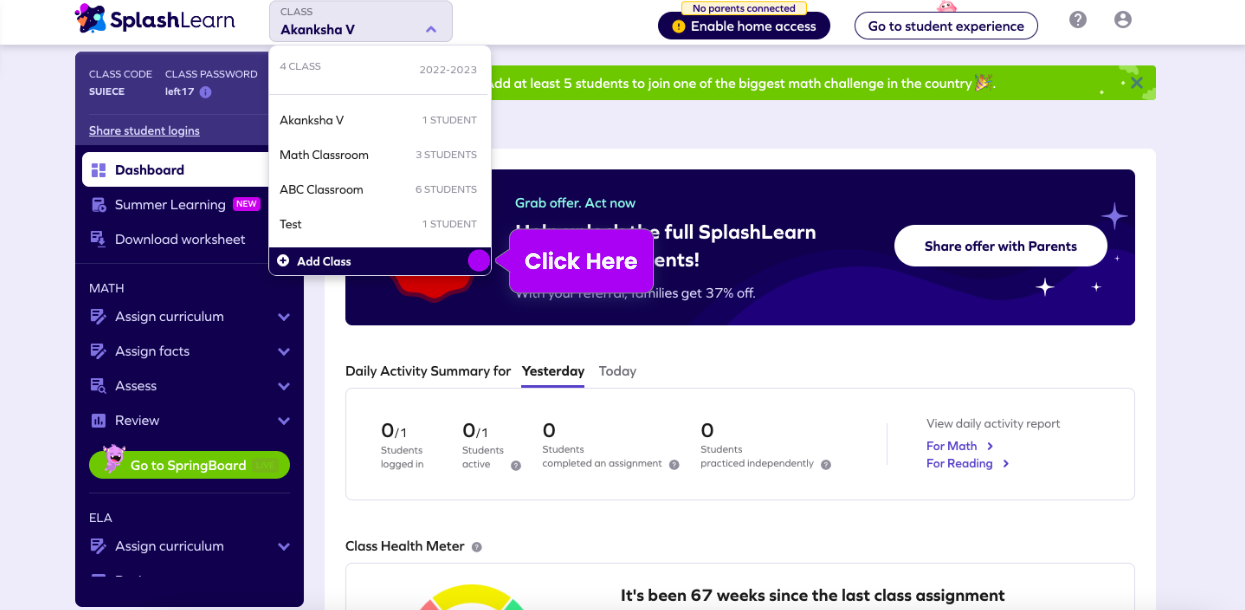 Tips for teachers to ensure a smooth experience when importing a Clever Class in SplashLearn
Import the right Clever classes: SplashLearn will only import Clever classes for K-5 with Math, Homeroom/Advisory, or English/Language Arts subjects. Make sure your Clever classes fall under these categories to ensure seamless integration.

Math Clever Class: Access to Math only
Homeroom/Advisory Clever (Grade K-2) Class: Access to Math and ELA/Reading
Homeroom/Advisory Clever (for grades 3-5) Class: Access to Math only
English/Language Arts Clever Class: Access to ELA only

Keep your SplashLearn class synced: If you notice missing or old students in your SplashLearn class, use the sync button to update your Clever class manually. Click here to learn more about manual sync

Keep your student roster up to date: If you add or delete students from your Clever class, update your SplashLearn class using the sync button. Please note that the students cannot be added or deleted directly from SplashLearn.
If you face any challenges or need additional support, then kindly click
here
to raise a request regarding the issue. The Customer support team will assist you further.